Miniature Magical Chrismas Worlds
Thomas Kinkade Snow Globes embody the spirit of Christmas so they top my gift list for anyone who loves Christmas.
Thomas Kinkade Illuminated Musical Holiday Snowman Snowglobe

Snowglobes are simply little balls of water that also hold an entire miniature world inside. What is it about them that draws us to pick one up and give it a little shake?  It must be magic! But the real magic happens next when a smile appears.
Thomas Kinkade Snow Globes have extra magic built in as they are complete works of art inside and out. Just look at the details in these Christmas snow globes, simply stunning.
Each Thomas Kinkade Snow Globe or Water Globe features an inspirational scene and message which creates an even more treasured piece perfect for gift giving even if it is for yourself.
I love to use Thomas Kinkade Snow Globes in my Christmas decor each year. The fun begins each year when it comes time to unpack them. It is just like opening a gift on Christmas morn.
The years of age has no effect on these timeless decorations. They still possess an amazing amount of magic. They are not only mesmerizing to watch but also bring a flood of fond memories of Christmas pasts. One of my favorite gifts each and every Christmas is now watching my granddaughter's eyes light up and her beautiful smile as we unwrap our Christmas treasures.
As a result, I find Thomas Kinkade snow globes to be timeless keepsake gifts for anyone.
Santa's Checking His List Thomas Kinkade Snowglobe
Illuminated Thomas Kinkade Christmas Snowglobe

So this is how Santa knows who is naughty or nice! How fun it is to see Santa watching the village through his magical snowglobe with his magnifying glass while he checks his list. Santa Checking His List has to be one of my all-time favorite Thomas Kinkade snowglobes.
---
Thomas Kinkade Village Snow Globes
I love how you can see Thomas Kinkade's award-winning "Victorian Christmas" artwork in each of these beautiful Christmas Village Snow Globes. These Christmas snowglobes not only illuminate, play music but also have magically swirling snow. My favorite though is the one with the train that really moves around the base of the snowglobe.
Thomas Kinkade Village Snowglobe: Lights, Music, and Motion

Thomas Kinkade Jingle Bells Snowglobe With Swirling Snow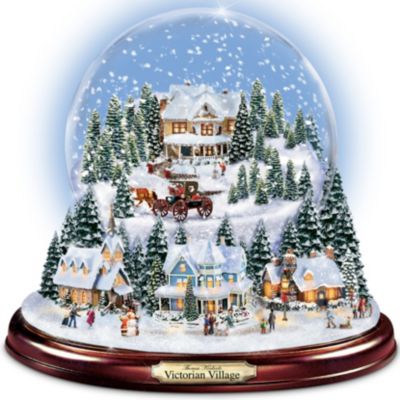 Thomas Kinkade Holiday Village Illuminated Musical Snowglobe

---
Thomas Kinkade Christmas Train Snow Globes
Magic and smiles certainly await anyone who sets eyes on these unique Thomas Kinkade snow globes. Miniature snowglobes deck out these holiday cheer filled Christmas trains. All it takes is a flip of a switch for swirling snow and Christmas music too.
Thomas Kinkade Snowfall Express Illuminated Snowglobe Train

Thomas Kinkade Wonderland Express Train Collection

---
Thomas Kinkade Snowman Snow Globes
What fun these snowman snow globes are! They entertain the most whimsical and happiest expressions. The guys might look pretty cold but they are sure to warm your heart with their smiles. They remind me of what Christmas looks like through a child's eyes and all of the warm wonderful feelings that go with it.
Thomas Kinkade Spreading Holiday Cheer Snowglobe

Thomas Kinkade Sno' Much Fun Snowglobe

Thomas Kinkade Holiday Scene In Snowman Snowglobe Ornaments

Thomas Kinkade Wonderland Of Snow Snowglobe

Thomas Kinkade Lighted Floral Holiday Snowman Centerpiece

---
Find More Thomas Kinkade Snow Globes