Mickey Mouse Handbags Add a Bit of Fun To Your Day
What a delight it is when I carry a Mickey Mouse Handbag.
My day always seems just a bit more bright and fun. A Mickey Mouse Handbag never fails to bring a smile to my face.
When I pull a Mickey Mouse purse out I am reminded of the fun Disney World trips that I have enjoyed with all of my family. The most fun is catching someone else's smile when they see my Mickey Mouse bag.  How can you not smile at Mickey Mouse? A Mickey bag can  be a great conversation starter too.  You can count on receiving some sort of fun comment every time you go out.
If you love anything Mickey Mouse and also love to carry fun handbags, then you have to check out these happy Mickey Mouse handbags. You may be surprised at the selection of Mickey Mouse Handbags that are available from cute and whimsical to retro fun. What a great way to share your love of all things, Mickey.
---
Mickey Mouse Handbags telling a Story of Mickey in Love
I love these new Mickey Mouse handbags! The colors are classic Mickey and each tells a bit about Mickey's love for Minnie. They are not only fun and cute Mickey Mouse bags but they are also very well made and should last quite a long time.  Just click on each purse and check out all of the fun details that each have.
The Mickey and Minnie Love story handbag had a pretty dangling gold heart with a sparkling Mickey on it. If you turn the bag around you will catch Mickey giving Minnie a bid smooch, so fun!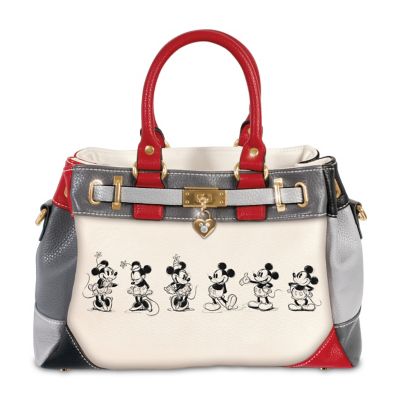 Mickey Mouse and Minnie Mouse Love Story HandbagBuy Now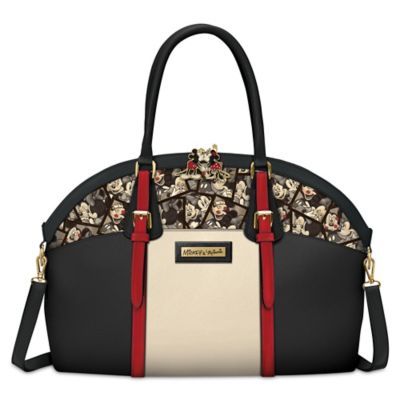 Mickey Mouse and Minnie Mouse, Caught in the Moment HandbagBuy Now
Mickey Mouse and Minnie Mouse Patches of Love HandbagBuy Now
---
Vintage Print Mickey Mouse Handbags
Isn't the vintage print on these cute Mickey Mouse Handbags simply adorable? I love the colors and all of the styles that you can choose from. These really make a great casual everyday bag.
Vera Bradley Mickey Mouse Handbags
If you love Vera Bradley handbags then maybe one of these cute Mickey Mouse handbags is for you. The print and the colors are so bright and fun they are bound to make everyone you meet smile. I love to hunt for Mickey in each of the prints.
Mickey Mouse Tote Bags
when a handbag just isn't enough
Sometimes a handbag just isn't big enough for what we need to carry, especially us Mom's.
I really like to carry a tote bag when I visit the theme parks with the grandkids. It gives me room to carry a bottle of water, my camera, a small umbrella, rain ponchos, etc.
Even when we are just heading out for the day I tend to grab my Mickey Mouse tote bag, especially since it always gives me room for whatever the day may require.