Mickey Mouse Handbags Add a Bit of Fun To Your Day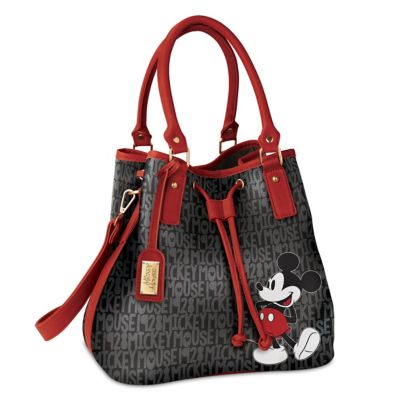 Disney Forever Mickey Mouse Women's Handbag With Luggage Tag
What a delight it is when I carry a Mickey Mouse Handbag.
My day always seems just a bit more bright and fun. A Mickey Mouse Handbag never fails to bring a smile to my face.
When I pull a Mickey Mouse purse out I am reminded of the fun Disney World trips that I have enjoyed with all of my family. The most fun is catching someone else's smile when they see my Mickey Mouse bag.  How can you not smile at Mickey Mouse? A Mickey bag can be a great conversation starter too.  You can count on receiving some sort of fun comment every time you go out.
If you love anything Mickey Mouse and also love to carry fun handbags, then you have to check out these happy Mickey Mouse handbags. You may be surprised at the selection of Mickey Mouse Handbags that are available from cute and whimsical to vintage fun. What a great way to share your love of all things, Mickey.
---
Mickey Mouse Handbags telling a Story of Mickey in Love
I love this Mickey Mouse handbag! The colors are classic Mickey and each tells a bit about Mickey's love for Minnie. They are not only fun and cute Mickey Mouse bags but they are also very well made and should last quite a long time. Don't forget the matching wallet. What a perfect addition to help keep everything organized.
The Mickey and Minnie Love story handbag had a pretty dangling gold heart with a sparkling Mickey on it. If you turn the bag around you will catch Mickey giving Minnie a bid smooch, so fun!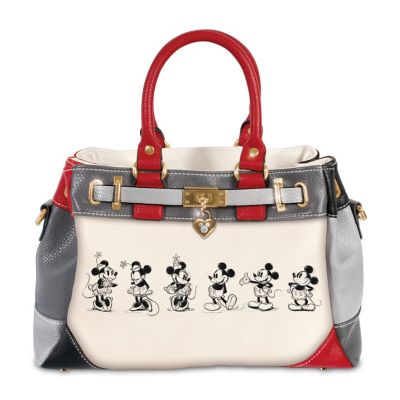 Disney Mickey And Minnie Love Story Handbag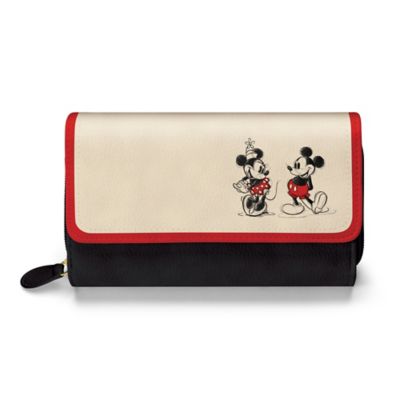 Disney Mickey Mouse & Minnie Mouse Love Story Women's Wallet
 Could this couple be any cuter?
Disney Style In A Snap Handbag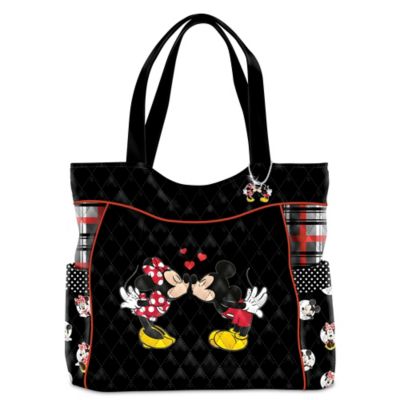 Disney Mickey Mouse And Minnie Mouse Love Story Women's Quilted Tote Bag
Disney A Charming Picture Tote Bag
Magical Mickey Mouse Handbags
Enjoy the magic of Disney every day with a 3 in 1 Magical Mickey Mouse Handbag. You really do get 3 unique looks in one handbag. It is super easy to switch to a new look almost instantly – without transferring the contents!
Unique Disney Magical Trio Interchangeable Handbag
Disney "Celebrate The Magic" 3-in-1 Interchangeable Handbag
---
Vintage Print Mickey Mouse Handbags
Isn't the vintage print on these cute Mickey Mouse Handbags simply adorable? I love the colors and all of the styles that you can choose from. The vintage print makes for a great casual everyday bag. When I look at the vintage styles it always brings back fond memories of watching Mickey Mouse cartoons and laughing or my first trips to DisneyWorld.
Disney Vintage Art Tote Bag With Mickey Mouse Heart Charm
Disney Retro Mickey Mouse Women's Handbag With Gold-Toned Charm
Disney Mickey Mouse Vintage Cross Body Handbag
Disney Mickey Mouse Vintage Shoulder Handbag
Retro Label Mini Mickey Mouse Handbag
Disney Vintage Mickey Mouse Pattern Handbag