Extra Special Gifts for Extra Special Granddaughters
Keepsake gifts for granddaughters are truly special gifts to give to your granddaughters anytime your heart desires. Keepsake gifts have special messages that any granddaughter will cherish throughout her life.
As a mother, we think we cannot possibly love anything as much as we love our children, then along come grandkids and our hearts grow even bigger. Nothing is as sweet, precious, and special as a granddaughter's love. A granddaughter's love is truly the sweetest love of all!
I am always looking for special ways to show my granddaughter just how special she is to me. When I came across these beautiful keepsake gifts for granddaughters, I knew immediately that they are a perfect way to remind her how much she is loved. You will love that these keepsake granddaughters gifts each have a special message that she will cherish even after she is grown with a family of her own. Who knows maybe she will pass it on to her granddaughter. Now wouldn't that be even more special!
Precious Moments Granddaughter, I Love You To The Moon And Back Figurine

Grandma's Gift Keepsake Gifts for Granddaughters
If you desire to get one of the most beautiful keepsake gifts for granddaughters, you have found a perfect one here.  I think think this necklace has to be one of my favorites.
This granddaughter necklace gift is sure to be cherished for a lifetime. Grandma's Gift is a sterling silver gift box wrapped in a gold plated bow with a diamond accent dangling from a sterling silver chain.
This gift is never meant to be opened, but it will always be held close to heart as the real give is that it is filled with Grandma's love to access at any time. You can't get any more special than that!
 Grandma's Gift comes in a beautiful gift box that includes this touching poem:
Grandma's Gift
"Dear Granddaughter,
This is a very special gift, That you can never see.
The reason it's so special is, It's just for you from me.
Whenever you are lonely, or even feeling blue,
You only have to hold this gift and know I think of you.
You never can unwrap it, Please leave the ribbon tied,
Just hold the box close to your heart, It's filled with Love inside."
Grandma's Gift Granddaughter NecklaceBuy Now
Pretty sterling silver granddaughter jewelry make wonderful keepsake gifts for granddaughters. A quality piece of jewelry like these granddaughter necklaces will last a lifetime. Every time your granddaughter puts on her necklace she will think of you and how much you love her. My grandma could not afford to give all of her granddaughters' jewelry like this, but had she been able to, I would still be wearing it today as a grandma myself, and thinking of her wonderful hugs as I did.
With his selection of granddaughter necklaces, you will be able to find the perfect one for your granddaughter no matter what her age is. Some of the pieces even have special messages to your granddaughter engraved upon the back.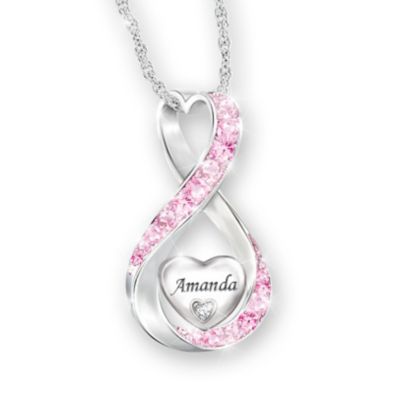 Always Loved Granddaughter Personalized Diamond Pendant Necklace
Dear Granddaughter Letter Of Love Sterling Silver Necklace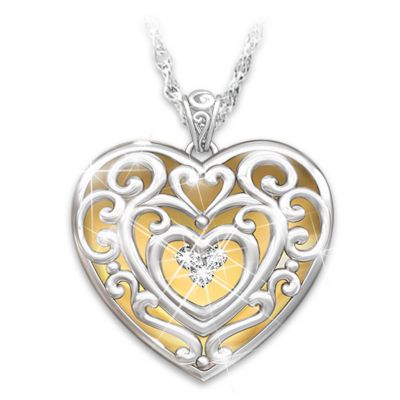 Glowing With Beauty Granddaughter Diamond Pendant Necklace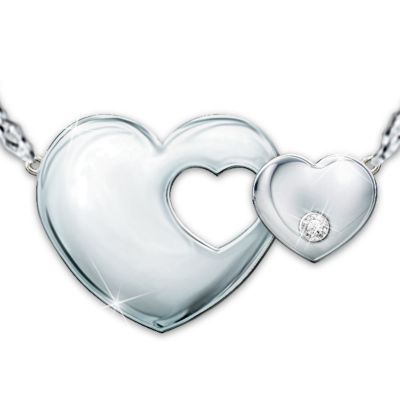 Always My Granddaughter Heart-Shaped Diamond Necklace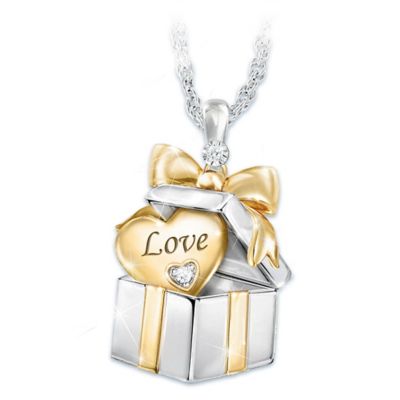 Grandma's Greatest Gift Granddaughter Diamond Pendant Necklace
My Shining Star Granddaughter Crystal Pendant Necklace
When I purchase jewelry for someone I love to wrap it in a trinket box or small jewelry box. It gives the recipient somewhere to keep their gift and adds a special finishing touch to the gift. Of course, a keepsake gift as special as the ones here deserve an extra special way to gift it. Something like this beautiful foiled accented musical grandaughter jewelry box is perfect.
I love the sentiment on the top that reads; GRANDAUGHTER I love you through and through…yesterday, today, and tomorrow too!  If you prefer you could also change this out with a more personalized photo. The interior has a soft black velvet lining to keep her precious treasure safe. My favorite part of this granddaughter jewelry box is that it plays "You are my Sunshine".
Granddaughter Petite Periwinkle Jewelry Music Box – Plays – You are My Sunshine
Music Box Keepsake Gifts for Granddaughters
Beautiful music boxes are another great example of keepsake gifts for granddaughters. When you wind a music box up something magical happens as the music begins to play. I am not quite sure what it is, but it has always made me smile. Each of these magical music boxes has a special message for your granddaughter. I love the carousel boxes but that is probably because my granddaughter has always love carousels and music boxes.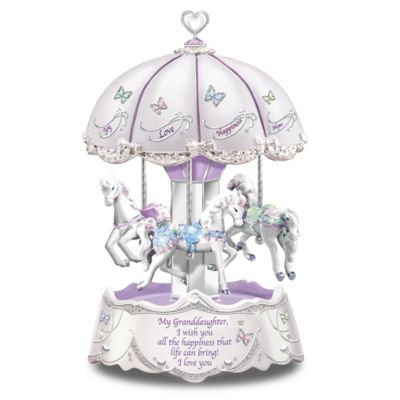 Granddaughter, I Wish You Illuminated Carousel Music Box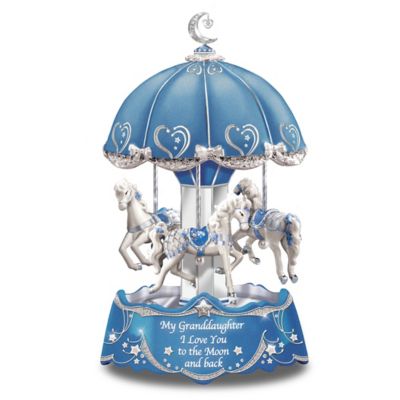 Granddaughter, I Love You To The Moon And Back Illuminated Carousel Music Box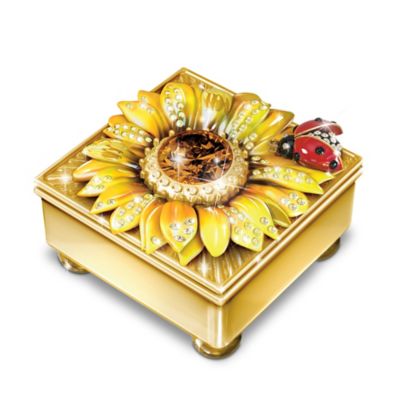 Granddaughter Mini Treasures Personalized 22K Gold-Plated Flower Music Box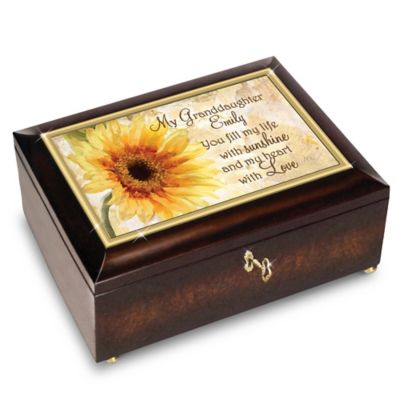 My Granddaughter, You Fill My Life With Sunshine Personalized Music Box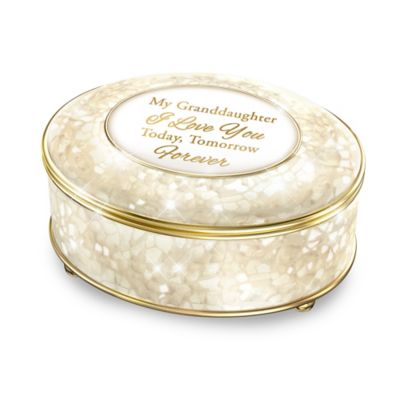 Granddaughter, I Love You Glass Mosaic Music Box
Granddaughter, I Love You Personalized Heirloom Porcelain Music Box
My Granddaughter, I Love You To The Moon Music Box With Poem And Personalized Heart Charm