So Many Magical Clocks, So Little Time
The magic of Disney is timeless just like these Collectible Disney Clocks.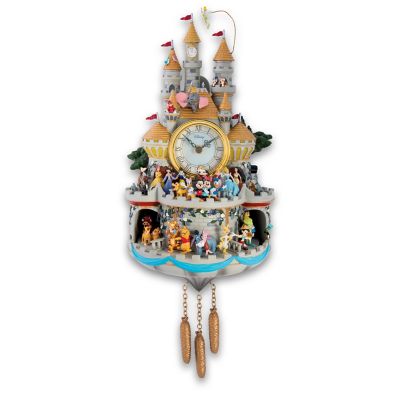 Disney Timeless Magic Cuckoo Clock

   What fun it would be to receive one of these magical clocks! One would enjoy the timeless magic of Disney 24 hrs a day in their home.
What makes these clocks so magical you may ask? Above all, each clock overflows with Disney fun. But the magic does not stop there! These Collectible Disney Clocks are not only fun and vibrant, but the attention to detail is also simply amazing.
The Timeless Magic Cuckoo Clock is a perfect example of this. Look, there are 43 characters dancing in celebration at Cinderella's castle. On the hour the castle lights come on and your clock also magically plays "A Dream is a Wish Your Heart Makes". Oh, the magic hasn't ended yet! The second tier of the castle rotates sending the characters dancing around and revealing hidden characters.
Imagine the delight any of these Collectible Disney Clocks will bring to a special someone. Although these magical clocks can't give us the gift of time, they are timeless gifts that are sure to be enjoyed for generations to come.
---
Disney Princess Clocks
Simply charming collectible Disney Clocks feature some beloved princesses. The Snow White Clock and The Beauty and the Beast clock are not only beautiful, but the artwork also tells their story. Remember, there is special magic in each clock, just click on it to see all of the details and magic up close. Have Fun!
Disney Snow White Hidden Treasure Cuckoo Clock

Disney Beauty And The Beast Happily Ever After Wall Clock

Disney Happiest Of Times Cuckoo Clock

---
Disneys Pirates of the Caribbean Clock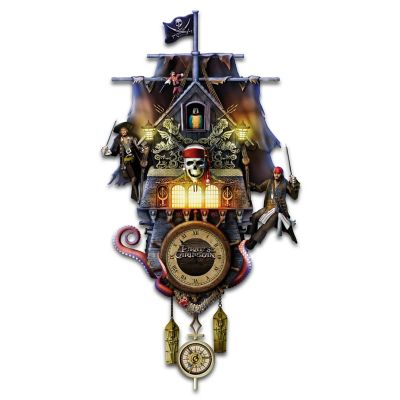 Disney Pirates Of The Caribbean Illuminated Cuckoo Clock

Sail ho! Disney Pirates of the Carribean fans. The Black Pearl has sailed into view loaded with magic and adventure. But don't just take my word for it, click on her and check out how the Black Pearl and her cursed crew has come to life for yourself.
---
Disney Alice in Wonderland Clock
The Mad Hatter wall clock brings the story of Alice in Wonderland to life. But the Cheshire Cat Clock is reminiscent of the retro cat clocks with the swinging tail with the exception that the Cheshire cat himself is swinging instead of his tail. How Fun!
Disney Alice In Wonderland Mad Hatter Cuckoo Clock

Sculptural "Cheshire Cat" Motion Clock Glows In The Dark

---
The Nightmare Before Christmas Clocks
If you or someone you know loves The Nightmare Before Christmas, you really must check out the 2 Fun Collectible Disney Clocks.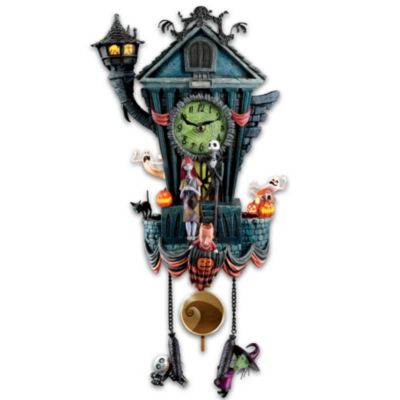 The Nightmare Before Christmas Cuckoo Clock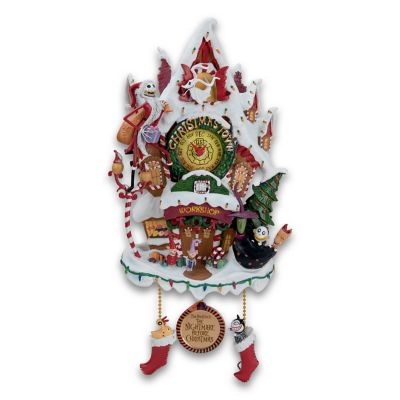 Tim Burton's The Nightmare Before Christmas Town Cuckoo Clock

---
More Collectible Disney Wall Clocks
Disney·Pixar Toy Story Cuckoo Clock

Disney The Muppet Show Cuckoo Clock

Disney The Lion King Hakuna Matata Wall Clock

SPIDER-MAN Daily Bugle Wall Clock

STAR WARS: Sith Vs. Jedi Wall Clock

x
Mickey Mouse Wall Clocks
Disney Spooktacular Wall Clocks