Give a Gift of Good Fortune
Giving Bonsai Tree Starter Kits are not only a unique and different type of gift to give but also has some special meaning to it. Did you know that it is a gesture of respect and a sign of good fortune to give someone a bonsai tree?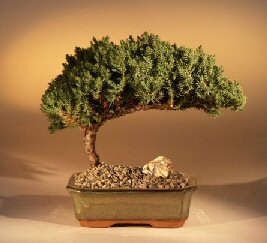 Juniper Bonsai TreeComplete Starter KitBonsai Boy of New York
Bonsai trees also express harmony, honor, and patience but most of all they symbolize happiness among friends. What a perfect unique gift for any occasion or better yet, to celebrate a friendship any time of the year.
The Bonsai Tree Starter Kits shown here are ideal for beginners and also great to give as gifts. The kits include everything that you may need to grow and maintain your own bonsai tree. The bonsai trees come fully trimmed and potted. You can choose to continue training your bonsai tree but you do not have to.
These bonsai trees are easy to care for, therefore, a grow your own bonsai tree kit is a gift that will be enjoyed for years to come. Give it to yourself or to someone you know that has always wanted to dabble into the art of bonsai and was never sure of where to start.
---
Choosing Your Bonsai Tree Kit
The hardest part of selecting a bonsai tree starter kit is choosing which tree to enjoy. The trees offered in these kits are some of the best bonsai trees for beginners. These bonsai trees are some of the easiest to care for due to being more tolerant of lighting and watering conditions. If you are unsure of a recipients bonsai knowledge then one of these kits would work perfectly.
Juniper Bonsai Tree
When you think of a bonsai tree this is the tree that most people picture as a traditional bonsai. The dwarf junipers are the most popular here in the U.S. Because they are a pretty much trouble-free evergreen, as a result, they are an excellent bonsai tree for beginners.
Baby Jade Bonsai Tree
Baby Jade is a succulent bonsai also called the "Elephant Bush"  This tree is an excellent choice for someone's home or office.
Willow Leaf Ficus Bonsai Tree
The long leaves on this tree remind you of a weeping willow tree. This tree is also known as Mexicana Ficus, does great indoors in about any lighting condition.
Hawaiian Umbrella Bonsai
If you are really unsure and do not have much luck with plants, this is the tree for you. It is one of the easiest and forgiving bonsais to care for. It is not only beautiful but very versatile and does well in many lighting conditions.
Unique Bonsai Tree Starter Kits to Choose From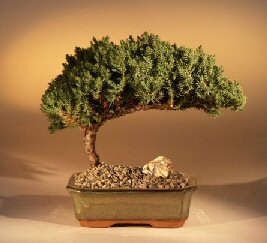 Juniper Bonsai TreeComplete Starter KitBonsai Boy of New York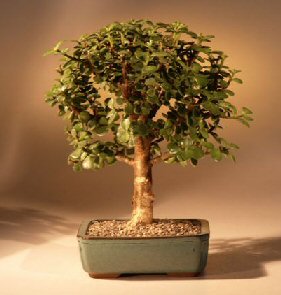 Baby Jade Bonsai TreeComplete Starter KitBonsai Boy of New York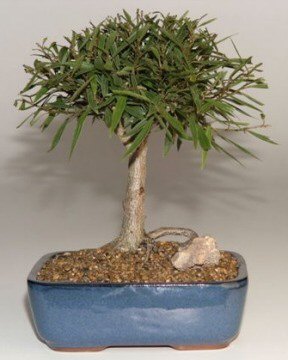 Willow Leaf Ficus Bonsai TreeComplete Starter KitBonsai Boy of New York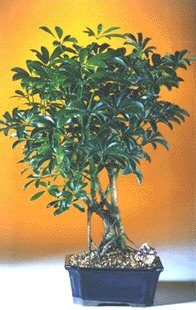 Hawaiian Umbrella Bonsai TreeComplete Starter KitBonsai Boy of New York
---
What is Included in your Bonsai Boy Complete Tree Starter Kits
Each of the Bonsai Tree starter kits above includes the following:
Selected Bonsai Tree
Glazed Ceramic Container
A Decorative Rock
Decorative Pebbles
Ceramic Miniature Figurine
Annealed Training Wire
Humidity Drip Tray
Bonsai Shears
Fertilizer Pellets
Care Instructions
101 Essential Tips on Bonsai (Book)
---
---
You Can Also Find More Bonsai Tree Starter Kits on Amazon
Planters' Choice Bonsai Starter Kit – the Complete Kit to Easily Grow 4 Bonsai Trees from Seed with Comprehensive Guide & Bamboo Plant Markers
Nature's Blossom Bonsai Garden Seed Starter Kit – Easily Grow 4 Types of Miniature Trees Indoors: A Complete Gardening Set Organic Seeds, Soil, Planting Pots, Plant Labels & Growing Guide.
Ashbrook Outdoors Bonsai Starter Kit – Everything You Need to Grow 8 Colorful Bonzai Trees – Complete Gardening Set
Bonsai Tree Seed Starter Kit – Mini Bonsai Plant Growing Kit, 4 Types of Seeds, Potting Soil, Recycled Bamboo Pots, Pruning Shears Scissor Tool, Plant Markers, Wood Gift Box, eBook – Garden Republic